In January, Men's Journal had a terrific article about fitness by Daniel Duane. The gist of it is that you should pass on the treadmill and elliptical and lift heavy. If this is news to you, go read it.
On the heels of that, they published a real stinker in February. It starts out well. The #1 rule is "Don't go on a diet, change your diet." Daniel Duane starts out by quoting Gary Taubes theory of Why We Get Fat. I mostly agree with Gary. Mostly, but not entirely. That's a subject for another time, however. The #2 rule is to shop the periphery of the supermarket:
If you want to live by one rule instead of 10, this is it, not least because it's the easiest to follow. Shop only the periphery of the supermarket, choosing whole fruits, vegetables, meats, fish, and dairy products…
Again, agreement here. After this, Mr. Duane presents a food pyramid (god save us all from food pyramids!) that goes like this:
Never Eat: refined carbs, simple sugar
Eat as a treat: whole fruit
Eat these less often: whole dairy, whole grains
Eat these every day: nuts, seeds, legumes, tofu, extra-virgin olive oil, canola oil, avocado
Eat these every meal: leafy, cruciferous, brightly colored vegetables, meat, poultry, fish, game, eggs
Whole grains are NOT found on the periphery, and it's suggested here that one should eat more whole grains than fruit. Tofu is also a processed food and should be on the "do not eat" list, but here it is presented as something it's ok to eat every day. Canola oil is heavily processed. You'd be better off using coconut oil or ghee for higher heat cooking.
It's abundantly clear that Mr. Duane is leery of saturated fats. He quotes this:
Many major research institutions, including the Harvard School of Public Health, no longer believe that dietary fat, even saturated — found in red meat, pork, butter, and cream — is bad for heart health. What's more, a study published last year in The American Journal of Clinical Nutrition found no link between saturated-fat consumption and incidence of heart attacks.
But then says this in the next paragraph:
This rethinking of dietary fat doesn't mean you can consume all the steak and eggs you want. While it's best to eat a little protein at every meal, you should vary the type you consume by rotating through beef, poultry, fish, game, and pork, in addition to eggs and plant-based protein like soybeans.
He later concedes that butter made from organic cream might be OK, but his meal plans contain this oh so appetizing breakfast: Oat-bran toast with extra-virgin olive oil; scrambled egg.
Wow. Sounds delicious! Here's the breakdown on this meal assuming 2 slices of toast, one scrambled egg and 1 teaspoon of olive oil: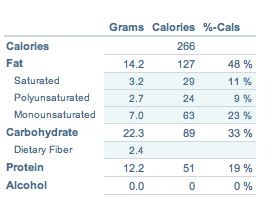 This is not a low-carb meal, it doesn't contain enough protein, and 266 calories *might* keep a child satisfied until lunch time, but a grown human? I really doubt it with that level of protein and fat, the two most satisfying macronutrients. If you subbed egg whites (keeping one whole egg) and vegetables instead of the toast, you could get the same amount of calories and a *filling* breakfast.
His third rule is to not count calories. I'm fine with that one – it seems to psych people out, make them feel deprived and make them stressed. Four out of seven of his breakfast meals are distinctly NOT low-carb and sound pretty calorie restricted to me. On Monday and Saturday his breakfast includes meat and eggs, and are pretty normal for an adult.
Monday: Mixed-herb omelet with applewood-smoked bacon; side of sauteed spinach
Saturday: Scrambled eggs with bacon at your neighborhood diner; swap cottage cheese with hash browns
Both of those sound good to me, and they are actually low in carbs. They appear to contain sufficient protein as well. Good luck finding cottage cheese to sub for potatoes – this is something I try to do sometimes, so I do actually know about it. At least half of the breakfast places I eat don't have it at all, and the ones that do charge you for substitutions. Most will charge you the normal price to leave off the hash browns (or anything else) and then charge you for a side of cottage cheese. It's annoying. Anyway, on to the other days.
Tuesday: Steel-cut oatmeal with organic raspberries and sliced almonds

Wednesday: Sprouted-grain toast with almond or peanut butter; whole orange

Thursday: (oat-bran deal mentioned above)
Friday: Steel-cut oatmeal with halved, raw walnuts and fresh blueberries

Sunday: Time to cheat again: banana pancakes with melted butter and maple syrup
Since he acknowledges that Sunday is a "cheat" (I hate that term), I didn't bother to run the numbers on it. On a typical day, breakfast averages out to 350 calories, 15g of protein and 50g of carbs. That is a recipe for failure. I'm too lazy to analyze all the meals (and let's face it, reader's eyes would glaze over), but this is a lot of cooking for not enough calories. He later quotes Gary Taubes' rules for weight loss, and the first one is to eat 20g or fewer carbohydrates a day. This meal plan is moderate in carbs, but it's nowhere near 20g! He's big on the glycemic index, but it does not take into account the total carb count, just the way a food causes a diabetic's blood sugar to react. A low-GI food can be very high in fructose, and eating fructose is no way to lose weight. I've complained about the glycemic index before, of course.

His plan doesn't include snacks, but he knows people will eat them – I know I'd be starving at 10:30 with most of those breakfasts. Here are his snack suggestions:
Stay stocked up on healthy, low-GI foods like nuts, beef jerky, cheese, plain yogurt; low-sugar fruit like berries and apples; and even energy bars made from only whole ingredients, like Lärabar, Raw Revolution, and Clif Nectar. In the store, reach for natural nut butters like Justin's Classic Almond Butter or plain organic yogurt from Stonyfield. Pair a stick of Golden Valley Natural organic beef jerky with cheese sticks from Horizon Organic, or indulge in a low-sugar treat by looking for dark chocolate with a cacao content of greater than 70 percent.

Craving something salty? Avoid pretzels, potato chips, and rice cakes, and reach for a bag of mixed nuts or pop your own popcorn and flavor it with extra-virgin olive oil. If you like crackers, choose RyKrisp, Ryvita, or Wasa instead of Saltines, Ritz, Melba Toast, Wheat Thins, or others made from enriched wheat flour. Sweet-potato chips and even protein-packed pork rinds can be healthy snacks when consumed in moderate amounts.
Larabars and Clif Nectar bars are made of dried fruit with some nuts and are mostly carbohydrate. If you're going to eat popcorn, why avoid rice cakes? Their nutritional profiles are very similar. And as for flavoring popcorn with olive oil…I sure hope people don't pop the stuff in extra-virgin olive oil (oxidized fats, anyone?), so I'm assuming he suggests you should use that instead of butter. Ew!
After the awesome article on fitness, I'm really disappointed in this one. Most of Gary Taubes diet advice is taken straight from Dr. Atkins, but this reads more like a Dr. Oz diet than anything Dr. Atkins would recommend. I feel like this is an opportunity missed after the goodwill engendered by pointing out that cardio is a waste of time. You'd do a lot better following the Tim Feriss slow carb diet.