I don't believe I've said much about this here, and I'm a bit behind everyone else because my copy of Robb Wolf's The Paleo Solution was to be shipped when Amazon ran out of copies. I attended Robb's seminar in July at Potomac CrossFit.
This is not the most awesome picture, but it's the one I've got!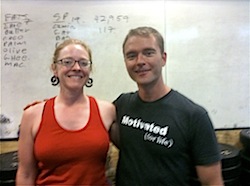 Long story short, I think Robb is a great guy as well as being extremely knowledgeable. His book is very easy to read, and I'd recommend it for anyone interested in learning more about nutrition and digestion. Even if you're not sure that you're interested in going Paleo, it's chock full of information.
I did get to ask Robb my most pressing question: Why can't I lose weight on a ketogenic diet? Yeah, that's right, I don't lose weight. In fact, according to my BIA scale, I put on fat and lose lean mass. I don't *gain* weight even if I eat a lot, but my body composition definitely goes the wrong way. At this point, my weight is normal so everything is about body comp for me. The answer was "Cortisol". My workouts force gluconeogenesis which raises cortisol. This causes my body to decide to break down protein instead of running on fat because it thinks it *needs* that fat.
Obviously, this doesn't happen to everyone, but if you've stopped losing weight via low-carb, you might want to try easing some carbs back in. It helps if you have a glucose meter so you know how you handle carbs. My sugars are normal and stable. I have other hormonal issues to deal with (thyroid, estrogen dominance), but hyperinsulinemia and hypoglycemia are not among them. I can't eat a breakfast composed entirely of caffeine and carbohydrates, or I do get hypoglycemic, but I figured THAT out in high school, though I didn't know what was going wrong. I just knew that I felt like crap, so I started eating sandwiches for breakfast instead of cereal.
At this point, I have decided staying full Paleo is not for me. I did find out a number of things that I should not eat, and for that, I'm really grateful, but I just can't ban whole classes of food forever. Here's where I've landed.
Gluten: Total lifetime ban. I just cannot digest it, no way no how. I only eat it accidentally.
Legumes: Extremely minimal consumption. I do not do well with these at all. I recently tried adding them back so that I could unify more of the meals at home (Tino is a vegetarian), and it was a bad idea. In addition to the digestive issues of the infrequent bean eater, I also had noticeable bloat and inflammation. Incidentally, broccoli does the same thing to me, whether it's cooked or not. I have to eat all my crucifers cooked, but only broccoli (so far anyway) messes me up this much even when cooked. It's too bad, because I do actually like it. I also adore green beans, but I have to only eat them once in a while – they actually cause trouble for me like beans and broccoli.
Vegetable Oils: Minimal Consumption. I eat out too much to eliminate them completely, but I either get all my dressing on the side or bring my own. I can't eat fried food out of fryers that have contained gluten, so I do eat little of this outside the house. Basically, I eat McDonald's fries now and then. Pretty much everyone else I know of cooks fries and breaded items in the same grease. At home, it's very easy to work around with Extra Virgin Olive Oil for salads and Light Olive Oil (100%, not extra-virgin) for cooking where butter, bacon grease or ghee won't do for some reason.
Non-Gluten Grains: I eat white rice and corn tortillas with no blood sugar problems, no carb cravings and in moderation, no weight gain. My diet is a lot more enjoyable for this inclusion. You can only eat so many sweet potatoes. I do have problems with some of the more exotic non-gluten flours, so I try to stick to stuff I make myself from rice flours or eat foods that are inherently gluten free, like corn tortillas. I do have to watch it with the corn chips – I can really over consume those if I'm not careful with portions. I have yet to find a gluten-free beer that I actually enjoy. I hate sorghum in beer – it tastes metallic, and rice beers seem to always lean towards white ale, not something I never liked much. Nothing has enough hoppy bite either, so I just stick to wine and cocktails.
Refined Sugar: I generally avoid this, but I don't freak out about small amounts of sugar in stuff (liqueurs in cocktails in small amounts), and once in a while I like some ice cream, a gluten-free brownie or whatever. I do avoid HFCS because it's always a sign that a product is totally jive.
Potatoes: With the skins on, white potatoes are a problem for me. Yams and sweet potatoes are not an issue at all.
Dairy: I eat dairy, but I've very recently made changes to that.
Intermittent Fasting: I exercise fasted at about 7am, and I don't generally eat after 7pm. I eat breakfast between 8 or 9am. This sucked the first few days, but I think it's really working, and now I'm used to it. Basically, 13 hours every day, some days a little more. If I get much over 14, I turn into a raging bitch, and nobody likes that.
Alcohol: I average out to slightly less than two drinks a day, cocktails or wine. My most common cocktail now is a Martini, and I generally only drink before dinner (except wine – that's with dinner). I try not to overindulge as it's dehydrating, and if I drink after dinner, I generally pay for it in less restorative sleep. I'm not binge drinking on the weekends, in other words, but some days I drink wine and cocktails and others I abstain completely.
If you're not sure why you feel like crap, the Paleo Diet is a great way to straighten yourself out. After you've eliminated the possibly meddlesome foods for at least three weeks, you can add one back in ONCE and find out what happens. If you haven't cut them for 21-30 days minimum, you'll never sort that out. I really didn't know that adding legumes back would be so bloody obvious. Lots of people tolerate legumes just fine but can't eat corn. Everyone is different, and it's worth finding out where you are at if you aren't looking, feeling or performing to your potential.
I have recently cut way back on fruit. I decided I'm better off with the sweet potatoes, corn tortillas and the rice than eating more fruit. It's not that I'm afraid of fructose exactly, but I think starches are a better choice for my goals. I'm also no longer using dairy as a protein source (the Zone was a bad influence there). I do eat my home made raw milk yogurt with frozen berries or cherries every day. I'm back to drinking my coffee black. Dairy (or coconut milk) would break the fast I'm trying to keep, and I've found that I drink a LOT more coffee if I have half and half or coconut milk in it.
I quit caffeine completely for three days and felt like a wet dishrag almost all the time. I could get out of bed just fine, but I felt groggy or just unmotivated most of the time. I'm now back on half the coffee I was drinking before. I feel like what I was doing before was probably excess and that this is more moderate.
I also cut back on nuts. The fat blocks for The Zone drove my consumption up. I eat less than 1 ounce of nuts per day. Most are unsalted and raw, but sometimes, I eat roasted and salted cashews.
I'm doing my workouts (CrossFit, three days on, three days off) fasted, and I'm trying to eat my largest and most carbo-rific meal at breakfast. Lunch tends to be small, and dinner is kind of medium. Some days I have a snack at 3 or 4pm if I'm hungry and my lunch was a bit *too* small.
I have no idea if you can call this Paleo or not. Certainly, I learned things from it and incorporated elements into my diet. Beyond that? I don't care. I'm doing well, and things are moving in the right direction, and I think that's a lot more important than obsessing about what to call my style of eating.