I've been out playing in the woods for the last week or so. What's more "primal play" than this? I did a lot more rock climbing than usual, and I enjoyed every minute of that.
Instead of going to Vermont and doing new mileage up there, I decided to clean up some (comparatively) little gaps in my Appalachian Trail mileage in Pennsylvania and New Jersey. I actually had intended to complete New York as well, but I miscalculated a section in Pennsylvania, so I had to spend an extra day there. I've now hiked the southern 1,500 miles of the AT, except the 35 in NY I just mentioned. This means i need to hike from Danby, VT to Mt. Katahdin in Maine.
At no point on this trip did I get water anywhere but a spigot, so I was carrying at least one liter more than I usually carry (usually 2l, carried at least 3l this time).
All told, it was 84.6 miles, but the daily amounts were all over the place.
(NOBO is Northbound, SOBO is Southbound)
September 15 (NOBO) – PA 443, Green Point, PA -> Wm. Penn (8.7)
September 16 (NOBO) – Wm. Penn -> Eagle's Nest (19.6)
September 17 (NOBO) – Eagle's Nest -> Port Clinton, PA (7)
(drive north)
September 18 (NOBO) – Lehigh Gap, PA -> Wind Gap, PA (20.7)
(drive north)
September 19 (NOBO) – NJ 23 -> NJ 284 (near Unionville, NY) (9.8)
September 20 (SOBO) – Bellvale, NY at 17A -> Waywayanda Shelter (10)
September 21 (SOBO) – Waywayanda Shelter -> County 565 (Glenwood, NJ) (8.8)
Last Wednesday (15th), I started at 3:30 and finished at 6:15. I was expecting there would actually be water at the shelter. Unfortunately, it was totally dry. Shortly after that, while figuring out how far I had to make it the next day, I discovered that it was actually 27 miles to Port Clinton, PA not 17, as I was expecting. It's a good thing that I had enough food – I had really only been expecting an overnight. After that, I carried a lot more water!
Over all, it was an excellent trip. I got rained on all day on the 16th, but the weather the other days was spectacularly nice.
This is a bit of the view UP the climb out of Lehigh Gap, PA. This particular mountain is a Superfund Site damaged by zinc smelting fallout. The rock climb is about 1000′ of elevation, and then there's some negotiation of a flatter version of the same kind of thing. I'd heard a lot about how rough it was, but I had a blast climbing it. This whole day, all 20.7 miles of it, was totally awesome. The climb would have been pretty terrifying if it had been wet, however.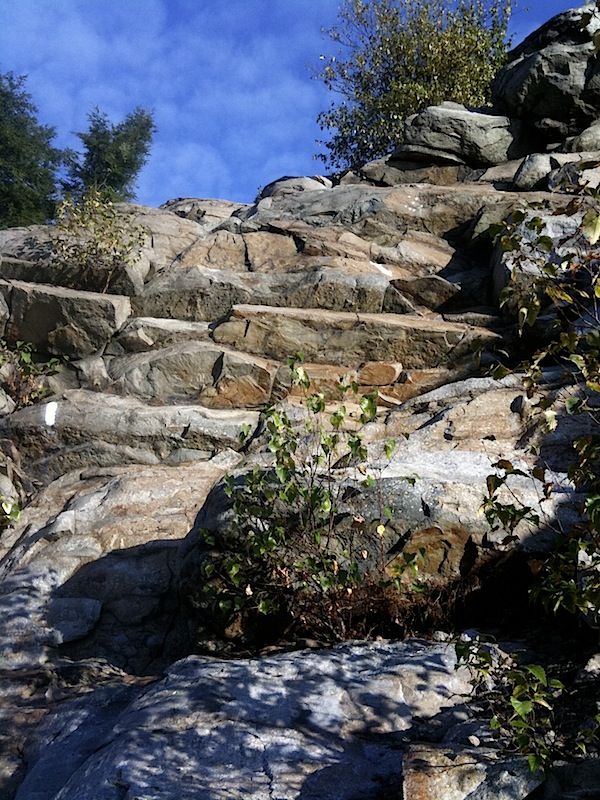 This kind of scenery is all over the place on the AT in New Jersey. This farm is sort of near Vernon, NJ. Shortly before I took this photo, there was a herd of cows on the trail that I more or less chased off. They really had no where to go but down the trail, so I felt like a backpacking cowboy or something.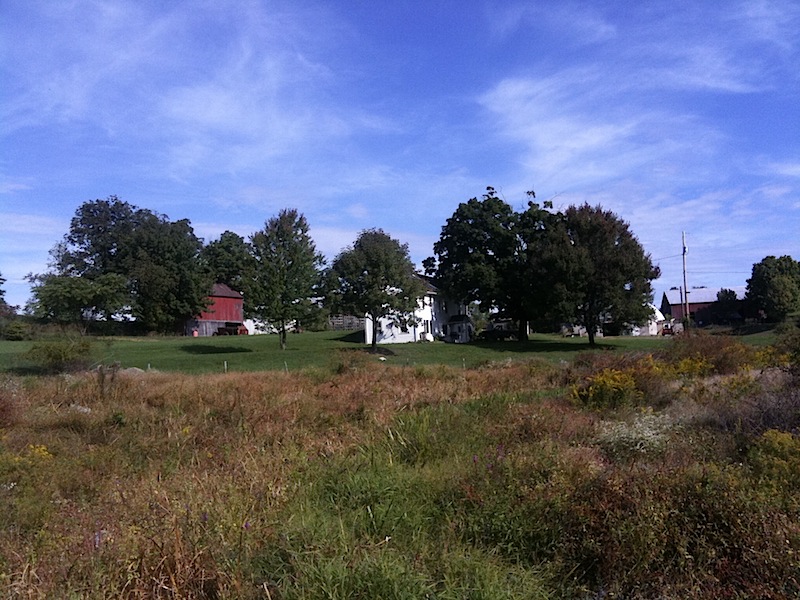 This was in the shelter register at Waywayanda Shelter in NJ.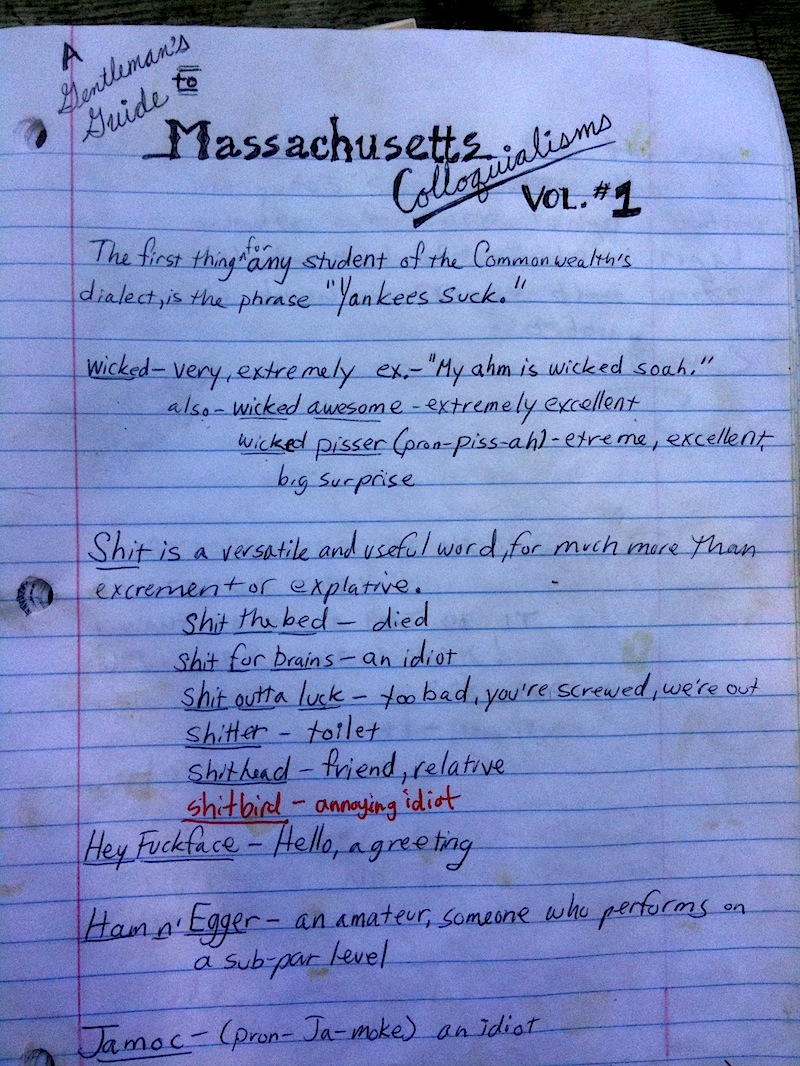 Bellvale Mountain (the border of NY and NJ is on this stretch of trail) is about four miles of walking on these big humped boulders. The views of Greenwood Lake were fantastic, and since the weather was dry and cool again, it was tons of fun, at least for me. There was even a ladder at one point because you had to drop down six feet, and nobody wants to jump that with a backpack.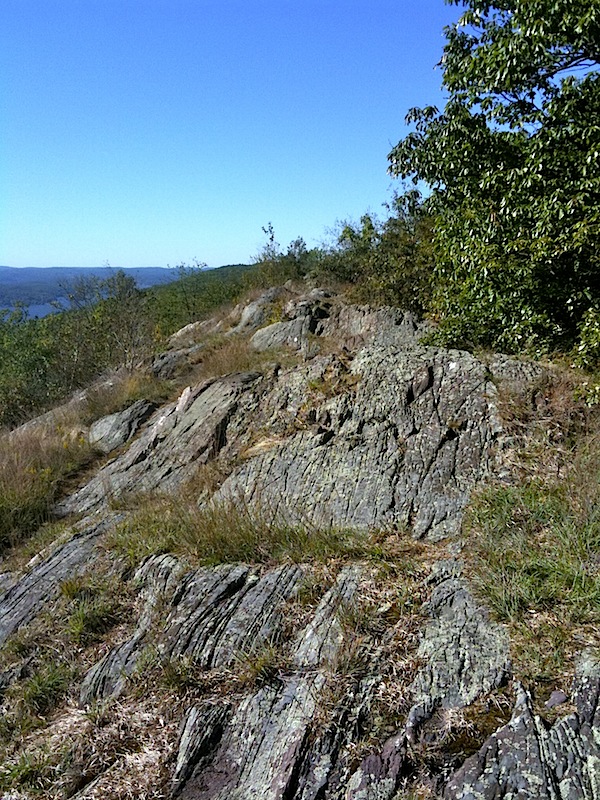 I took this towards the end of my hike. This boardwalk continues for at least a mile through Pochuck Marsh. It's a really amazing piece of trail engineering. The Appalachian Trail is maintained by volunteers. Imagine building this thing for more than a mile through a swamp!