In another post, a commenter said they were having a hard time figuring out what people following Paleo or Primal diet were actually eating on a day to day basis. They also expressed interest in what I was going to eat while backpacking, and I will get to that in a moment.
Since I see photos of Paleo and Primal meals all over the web, I have to assume the commenter has looked hard enough to find that stuff. What I actually think *is* lacking, and maybe this is what they mean, is meal plans. With a meal plan, you can develop a shopping list. With a few photos of food, you can only really get the most basic ideas. Maybe you'd be presented with a way you hadn't thought of using a vegetable or meat, but for the most part, the more mundane stuff is missing.
It's not that I think this way of eating is boring, but what people post on their blog in terms of photos and recipes doesn't really cover the day to day patterns of eating. It also doesn't explain how to shop efficiently and get the most out of your groceries. What's the weekly cycle of shopping for fresh meat, vegetables and fruit and then eating down the fridge? Added to that is an issue I've mentioned before: a lot of Paleo/Primal recipes are imitations of neolithic foods. I didn't eat pancakes before, so why would I want them now?
Grocery lists and meal plans for a low-budget whole foods diet free of grains and legumes have long been on my list of things to do. Maybe it will bubble up to the top, but not today. This is a digression from my topic for today though: what I'm eating while backpacking.
For my last trip (June of 2009), I hiked down the Appalachian Trail from Gettysburg, PA to Harper's Ferry, WV. The day I hiked into HF turned out to be one of the hottest days we saw all summer, and during the last bit of it, while I was walking through town among tourists eating drippy food (it was a Saturday) was absolutely miserable. The rest of the trip was nice, if a bit too warm, especially at night. I did one thing I'd never done before: I did not bring a stove.
I made the decision at the last minute. Every hike I run across at least one person (or couple) that don't cook while backpacking, even people who thruhike the 2,100 miles of the Appalachian Trail mostly without cooking. I was trying to use a different backpack, and the rigidity of the pot and stove just made it impossible for me to fit my food and gear into that pack. This was all about volume and not weight, but I really wanted to use that pack, so I decided to go without the pot and the stove.
It worked out really well, and not because the weather was warm. I just cannot believe how much time I was spending farting around with the whole cooking process. Mostly, however, it took me an eternity to get GOING in the morning. I would delay doing my final packing because as long as I *could* have it, I'd think that I did want some hot tea (or coffee, but mostly I do tea on the trail). Knowing that my breakfast was ready to eat and that's all there was did not depress me at all – it got me going a lot earlier. As far as lunch and dinner went, I had already gotten into a thing where I'd do my cooking at lunch or I would stop and cook dinner early so that I could hike nearly until dark and not have to mess with boiling water and waiting for stuff to cook while it was actually dark.
The reason I like to hike later in the day is that I have, for whatever reason, a lot more energy from 3pm to 8pm (roughly) than at any other time to day. It allowed me to take advantage of that, and it helped me get going in the morning – both things that are quite desirable.
It's going to be colder hiking in May at high elevations, so I am bringing a cooking pot and some tea bags. I'm also bringing some instant coffee because I can make that with cold water, but if there's a fire going, I can boil some water. Due to the way woodland water sources work, a pot is often very handy for dipping water out of a stream anyway, so even if I never boil water in it, it's still useful. I'm also going to use my larger capacity pack which is actually also lighter than the smaller capacity pack I took in June.
As far as weight goes, my no-cook food weighs about 1.5 lbs. per day. This is about what my previous mix of cooked and no-cooked foods weighed. I really thought I had been gaining an advantage by carrying dehydrated stuff, but apparently not. Here's what I'm planning to carry for each day: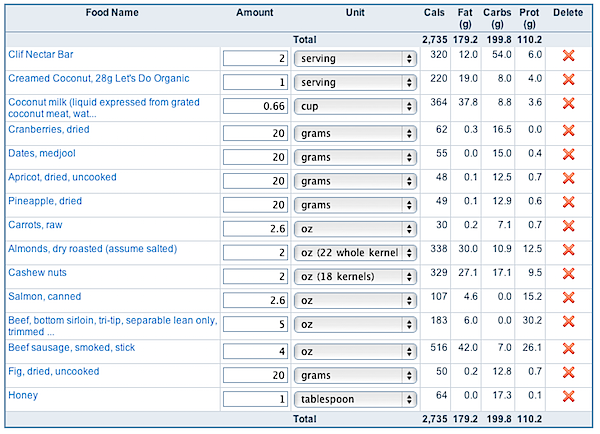 And here's a macronutrient breakdown: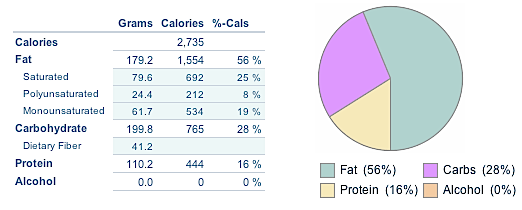 And here are the RDAs, not that they necessarily apply if you're not eating grains:

I put a Clif Nectar bar into Fitday, but I'm actually carrying a mix of LaraBars and Clif Nectar bars. Clif Nectars are no longer made, but they were very similar to LaraBars. They are 100% organic, gluten-free and contain five or fewer all natural ingredients. Both are just smashed up fruits and nuts with spices or cocoa powder added. The only Clif Nectar I'm sad to see go is the one that had cocoa and coffee in it. Those were awesome.
The powdered coconut milk is from Wilderness Family Naturals. It does not like to dissolve in cold water, but I mixed some up at home by shaking the hell out of it (in very light plastic bottle I'm bringing for that purpose), and it was good enough to drink. Not perfect, but I really like coconut milk, so definitely good enough for me.
I dehydrated shredded carrots, and they are part of a salad-y thing that can be rehydrated in cold water with the pineapple. I have crystallized lemon (TrueLemon) and honey packets to make a dressing for it. I don't really go in for honey at home, but considering the incredible work I'm doing out there, the larger amount of sugars I'm eating are just fine. I don't eat much dried fruit at home, and I rarely eat food bars either.
The salmon is in foil packets. The 5 oz. of beef is actually 2 oz. of homemade jerky. The summer sausage is ordinary summer sausage. I have some fantastic local summer sausage that I wanted to use, but it's got cheese and herbs and all kinds of stuff in it, and I'm not sure it will hold up for five days in my pack. I know the ordinary grocery store kind holds up just fine. So does cheddar cheese and butter, but I decided to carry no dairy on this trip. Coconut cream is something I can eat all on it's own, and I can't really do that with butter.
I'll have a few extra things in case I need them, probably some more Clif Nectar/LaraBars. I will also have a few tea bags and some instant coffee, but as far as extra food goes…there's a steak house (that's hiker friendly) .3 miles off the trail right in the middle of my hike. I think it's unlikely that I will pass it by, and there are other opportunities to eat food that I'm not carrying, so I will ultimately finish with some food left.