This time, I'm launching right in so I don't get distracted. Part one is here.
Once you've gone low-carb for a long time, whether you're paleo or not, it's hard to go back without gaining weight. Many people who've been on a low-carb diet for a long time claim that they gain from consuming any carbs, and quickly. Many people that do any kind of a long-term diet gain the weight back, but they don't seem as surprised by this as low-carbers or paleo/primals that gain or stall out. Many of the LC and Paleo/Primal crowd are very strong-willed people who've been doing something difficult with a major part of their life for months, and they feel like they know what they are doing by now (damn it!), so how could this awesome way of eating betray them?
My first post has a pretty high-profile low-carber talking about her issues, and Richard Nikoley's "Paleo Diet Problems" includes a concise list, just thrown out there. The comments go on for a very long time, and are damned interesting.
I can concur that low-carb just stopped working for me at some point. I was told that I must be doing it wrong, but no matter where I took my macronutrients or diet composition generally, it didn't really make any noticeable difference. Now that I've gotten the weight off through brute force, I'm determined not to gain it back, but it is definitely not easy. I think there are two main reasons that the stalls or gains occur.
First, you may have eaten a food that you have an allergy or sensitivity to, one you had restricted on your Paleo or low-carb diet. Often, this food is in a cheat/reward meal at a restaurant with *other* foods you haven't eaten for a while, so it's hard to figure out which one is the troublemaker. If you gain several pounds overnight, you're inflamed, and it's probably an immune issue, unless you did something ridiculously strenuous or actually injured yourself. If you way-overdo working out, throw your back out or get in an accident, your muscles can retain a lot of water. Food allergies can be very hard to suss out, especially for women since they have a lot of up and down just from female hormone cycles.
Second, you may have down-regulated your metabolism. If this is the case, you'll gradually put on weight eating more calories or high carbohydrate foods, and you won't lose from buckling down on your current program.
So, let's imagine that you are an actual hunter/gatherer living in the wild. You aren't going to go on a diet. You don't care if you have a spare tire. You aren't likely to exclude entire groups of food because you think they are unhealthy. Except for meat, your foods are available seasonally, and since it's now winter, the vast majority of your calories are from meat. In order for you to survive and procreate, your body makes the glucose it needs from said meat. You aren't hungry, and you're still alive. Eventually, your metabolism needs less food to keep you alive. This is a *brilliant* evolutionary strategy. Lowering your body temperature and pulse doesn't do you any serious harm because your food supply, though it may be available is not endless, so why run pointless cycles to create waste heat? After all, you might need that fat later.
When other foods (fruit, tubers) become available, you will certainly eat them, and you will either use the energy for tasks or your will pack on some fat. But now you need less food, and if you can get by like this it's an evolutionary win. And the appetite suppression? If you're not hungry, you can just sit on your butt instead of hunting so you don't need more food. Another win for survival!
The first time you get keto-adapted, the strategy works well and you lose quite a bit of fat because your body has it to spare and that's why it packed it on. Once your body is on to you (detecting that it's winter and your food it's not getting any carby foods), it's going to quit wasting fat on unnecessary heat.
If you are a female H/G, maybe you'll get pregnant. Either you'll be growing a new human outside you or nursing one for at least three years, through all the seasons and possibly some food shortages. Now it's really a win to lower your metabolism. I think this is why more women have subclinical hypothyroid issues after being keto-adapted for a while. Eventually, you might not be fertile at all because your hormones think the environment will not provide and that you don't have enough fat to get by. This happens more than I ever thought it did. I always pictured this happening to extreme athletes like ballerinas, gymnasts and runners. I would *not* have guessed it happened to women that don't look in any way extreme…but read the comments on that thread at Free The Animal or listen to some of Robb Wolf's podcasts.
Your hormones are planning for the future, and you just can't trick your body forever. If you insist on sticking to your plan, you might lower your calories more or add a bunch of strenuous exercise. This will mess up your adrenals. You might buckle down harder and burn out your adrenals. While you're provoking your body to use adrenaline, you feel good, so you don't detect a problem with the exercise. If you want to learn more about Cortisol, Adrenaline and bio-chemicals and how use use them up and really screw yourself up, read Dr. Diana Schwarzbein's The Schwarzbein Principle II, The Transition. I always thought "adrenal fatigue" was like the new yuppie flu. I don't think that any more – I fully accept that it's a real thing.
You could, of course, have developed a thyroid problem. Many people report that it's hard to get taken seriously by mainstream medicine unless you hit the markers on a blood test. Even if you do, it's hard to get your medication where you need it to be. None of this means you *don't* have a thyroid problem caused by chronic dieting. Now, I'm not a doctor, and I'm not giving medical advice, but this article at Ray Peat's site was a real eye opener. But wait! There's more. If you're a woman, do not pass up his articles on progesterone and estrogen. They are worth a lot more than you'll pay for them (hint: they are free). There's a lot there, and it's well documented and annotated.
All these hormones have to perform a delicate dance for you to feel good and look good. It's worth reading up on them if you're stuck or stalled or feeling crappy, especially if you're already sure that you've got all your food sensitivities mapped out.
One blog that covers subclinical hypothyroid quite often is 180 Degree Health. I don't agree at all with Matt Stone's "High Everything Diet" (google it, I'm too annoyed with him over the Jimmy Moore thing to drive traffic to his site) that includes lots of potatoes and rice. He's talking about 400g of carbohydrate a day which you might note compares quite well to the Standard American Diet. He strongly discourages gluten grains and Omega-6 fats, but people do report gaining up to 20lbs. (I saw this in a comment on his blog) by taking his advice on how to "heal their metabolism."
I think he's taken a lot of solid ideas from Ray Peat, Dr. Diana Schwarzbein's The Schwarzbein Principle II and possibly Lita Lee and come up with something quite different than what they recommend. He promotes a lot of ideas from Dr. Broda Barnes that have been damned useful to me, but I combined that information with Peat, Schwarzbein and Lee and wound up somewhere quite different from the "High Everything Diet."
Broda Barnes recommended the following for weight loss: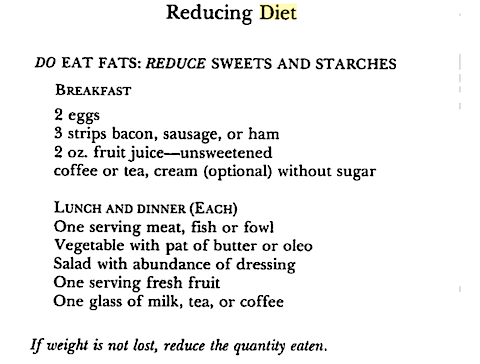 It's pretty moderate, unlike Matt's diet, and it includes fruit, something the low-carb paleo crowd criticize quite often because of the dreaded fructose.
Schwarzbein recommends balanced meals of real foods that include 20-30g of carbohydrate, as much green veg as you like and sufficient protein. This comes out to more like 100g of carbohydrate a day, not 400g. Lita Lee's recommendations are almost entirely the same as Ray Peat's: avoid all unsaturated liquid oils except extra virgin olive oil, all soy products, herbal estrogens and estrogen stimulators, all RAW cruciferous vegetables and do eat adequate protein (she and Peat recommend a lot of full-fat dairy as a protein source), whole sea salt, complex carbohydrates (fresh orange juice and raw carrots are mentioned by Peat often) and coconut oil. How you get stuffing your face with carbs out of that, I don't know.
There are some interesting bloggie bits at Diet-Fucked too. Most of the entries are distillations of ideas from people I've already mentioned, but the anecdotes and other pointers in the comments were great for me.
I want to return for just a moment to Richard Nikoley's blog post. I had some of the same issues he complained about, and since I had cut a lot of salt out of my diet and switched my salt intake to sea salt, I thought it was possible that I could be deficient in iodine. I tried that for a while, and found out that this is true, at least for me:
"In my quick research on the issue, I note a number of sources that indicate iodine is a U-shaped curve, i.e., too little or too much can cause hypothyroid conditions."
A little helped, more helped more…and then it got worse. I saw something on, I think, Ray Peat's site that said "beware of the iodine guzzling cults", and thought about the fact that I'd heard that before…and cut way down. Now I take some, but not too much.
For more about hypothyroid and graphic body temperatures, check out Dr. Bruce Rind's site. Diana Hsieh tracked her body temps for a while, and has her information on the web, if you'd like to see some real data.
I don't have this all figured out by any means, but what I've learned from all these sources is really helping. Maybe it can help you too.